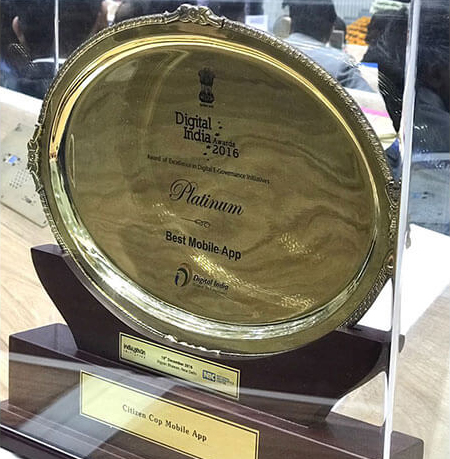 Digital India Awards 2016
Dec. 2016
CitizenCOP was awarded The Digital India Platinum Award 2016 for Best Mobile Application. This award was presented by Hon'ble Union Minister of Electronics and Information Technology and Law & Justice Ravi Shankar Prasad in New Delhi. This award was bestowed upon Chattisgarh Police for using CitizenCOP application to directly connect people with cops.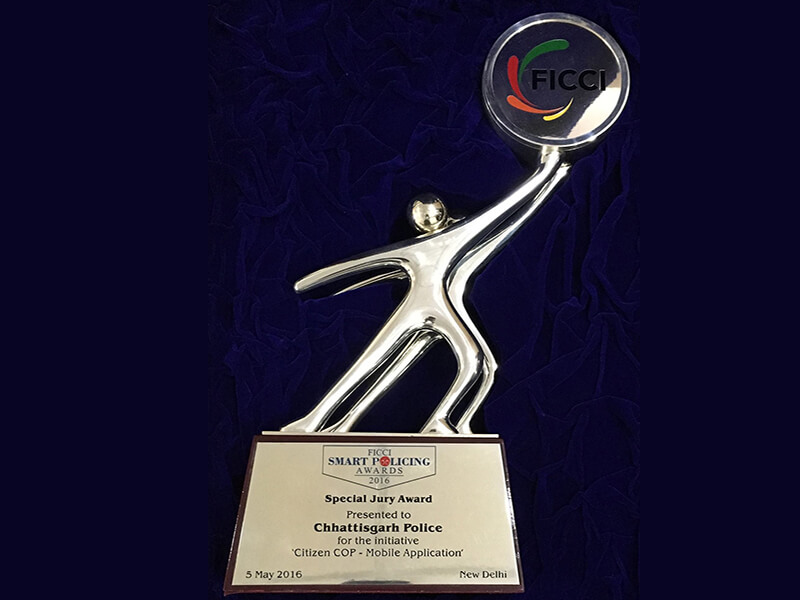 FICCI Award
May 2016
CitizenCOP was given the Special Jury Award at FICCI SMART Policing Awards 2016. This award was conferred upon Chhattisgarh Police for using CitizenCOP application to provide common people easy access to police services and access to status reports of any complaints. Chhattisgarh Police's Citizen COP mobile application was launched on September 2015, and is successfully working in five district in the Raipur range.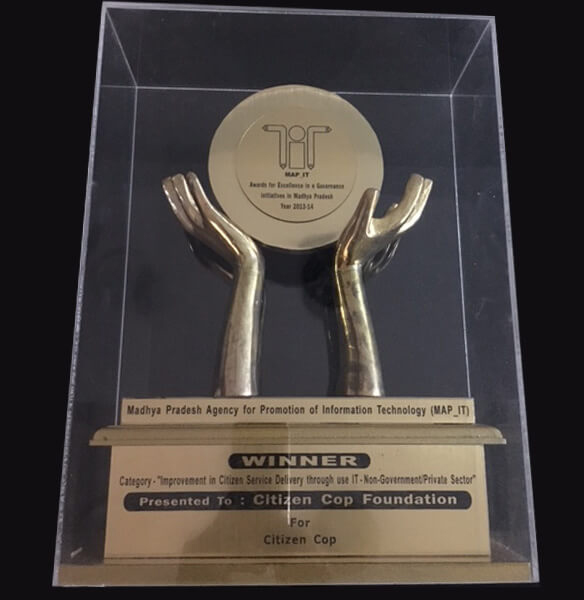 e-Governance Excellence Award 2014
April 2015
CitizenCOP was awarded the e-Governance Excellence Award on 13th April 2015. This prestigious award was conferred on Mr. Rakesh Jain, CEO, Infocrats Web Solutions. Shivraj Singh Chouhan, the then Chief Minister of Madhya Pradesh, presided over the ceremony and presented the award. E-Governance Excellence Award recognizes and promotes implementation of technology for e-Governance.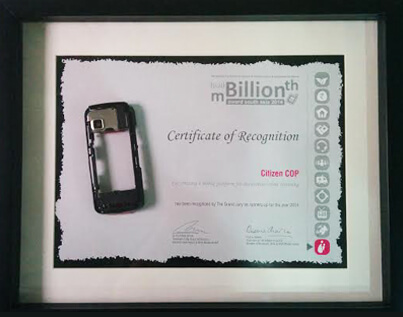 mBillionth Award 2014
March 14
CitizenCOP has been recognized for its excellence in empowering women and children at mBillionth South Asia Innovative Mobile Technology Awards 2014. The mBillionth Award was launched in the year 2010 to recognise & honor excellence in mobile communications across South Asia. It provides a dynamic forum and ecosystem for the mobile and telecom stakeholders in South Asia to experience, share and exchange ideas, innovations and partnerships, all towards meeting governance, development and citizen services needs for more than 1.5 billion population in the region.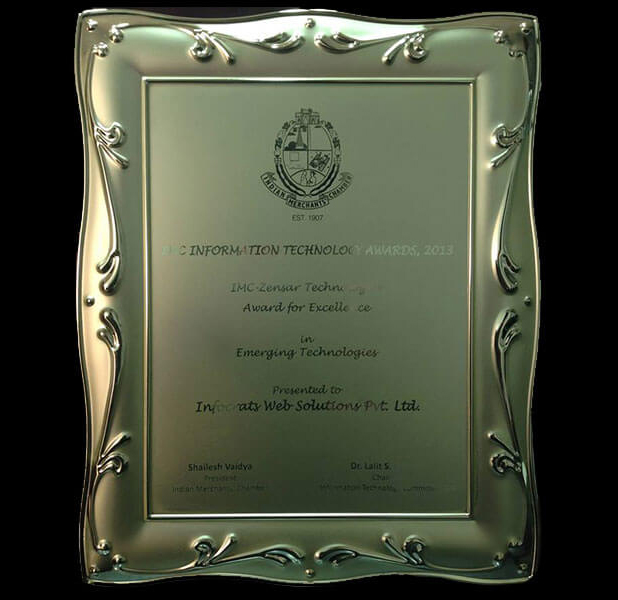 IMC IT Awards
Oct 2013
CitizenCOP application was declared a unanimous winner as best emerging technology at IMC-IT awards 2013. IMC is a renowned national level committee established since 1907 and has been conducting such awards since a decade, to appreciate innovative work done in the field of technology and business. Citizen COP was honored with victory by Mr. P.S. Deodhar (Chairman of APLAB and Former Chairman of Electronic Commission).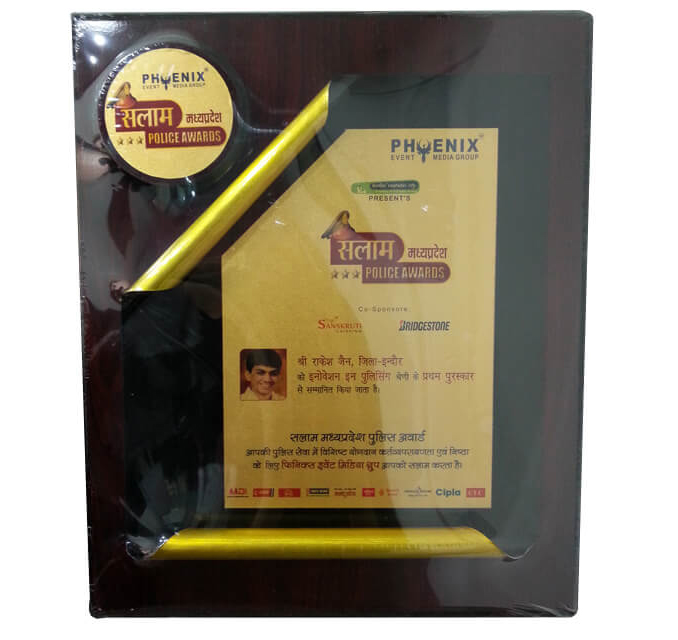 Salaam Madhya Pradesh Award 2014
August 2014
CitizenCOP application has been awarded with "Salaam Madhya Pradesh Award" by Madhya Pradesh Police. It was recognised as the best app for "Innovation in Policing" category. Jury made us feel more proud by their words that CitizenCOP has established a great co-ordination & brought a huge help in promoting policing in common people. They selected our mobile application to be the only civilian entry to win an award in the event.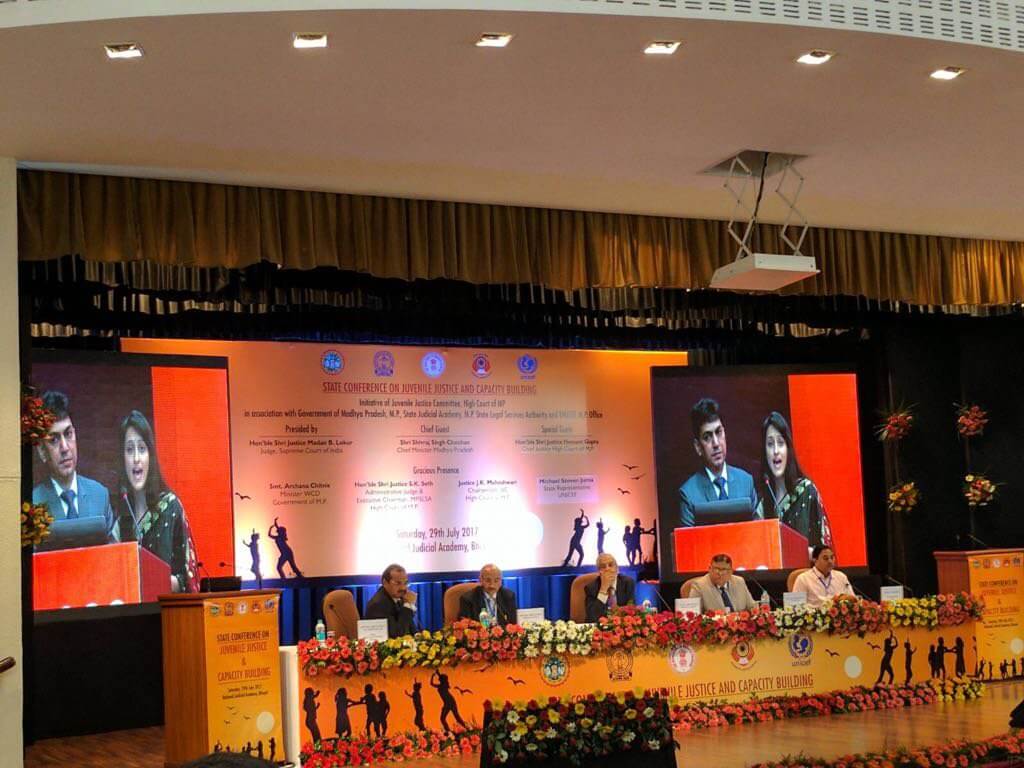 State level Juvenile Justice Seminar at National Judicial Academy, Bhopal
July 2017
Proud moment to express my views in State level Juvenile Justice Seminar at National Judicial Academy, Bhopal. Few Dignitaries present are – Justice Lokur, Supreme Court, Hon. Chief Minister of MP, Hon. Chief Justice of MP Shri Hemant Gupta Ji, Hon. Justice JK Maheshwari, Hon. Minister Mrs. Archana Chitnis, other High court Judges, Respected DGP Shri Shukla Sir and officers of state government of MP.